George Washington's Mount Vernon Estate
Located on the banks of the Potomac river, Mount Vernon is the estate of George Washington which is open to the public, and now includes the Ford Orientation Center and Donald W. Reynolds Museum and Education Center, facilities with 25 galleries and theaters, more than 700 artifacts, and interactive displays that allow visitors to familiarize themselves with the real George Washington. Our first presidents world famous dentures are even on display, along with three life-size models of Washington created from a forensic investigation. This historic area features the restored Mansion, original outbuildings, the tomb where the Washington's are buried, beautiful gardens, and heritage breed animals who work at a four-acre farm site near the river. George Washington's Distillery is open April through October, and is located adjacent to the Gristmill.
Augustine Washington, George Washington's father, first built a home at the location in 1735; a modest one and a half story farmhouse. George Washington began leasing the property in 1754 following his eldest half-brother's death and although he did not inherit it outright until 1762 , he expanded the house in 1758, raising the roof to make the Mansion two and a half stories high. In 1774, he added the north and south wings, the cupola and piazza to create the structure we see today. Before Washington began construction work in 1774, he created a design drawing showing how he intended the west front to look. The drawing shows the façade as completely symmetrical with the front door and cupola on the center axis, with the windows balanced to either side of it. The construction of the stair in 1758 pushed the door to the north and a window south out of the passage and into the small dining room.
One of the nation's most beloved historic sites, Mount Vernon offers visitors a glimpse into 18th-century plantation life through it's beautiful gardens and grounds, intriguing museum exhibits, as well as programs honoring George Washington's life and legacy. Today over 1 million visitors take in Mount Vernon every year, so it's best to avoid the busiest times to get the full experience, namely President's day. Your experience will differ depending on when you visit, as they offer different programming and tours seasonally.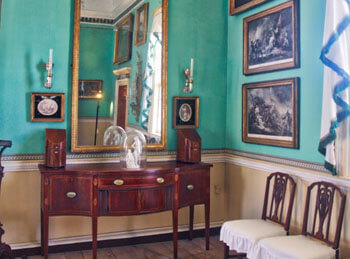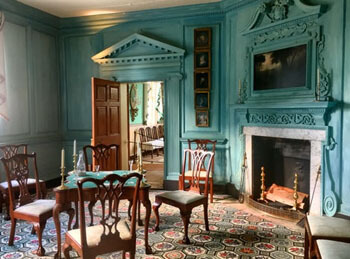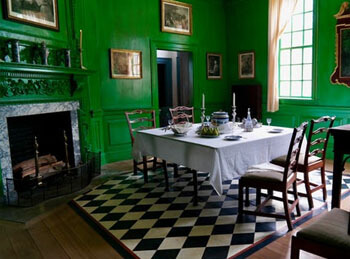 3200 Mount Vernon Memorial Highway
Mount Vernon, VA 22121
703-780-2000